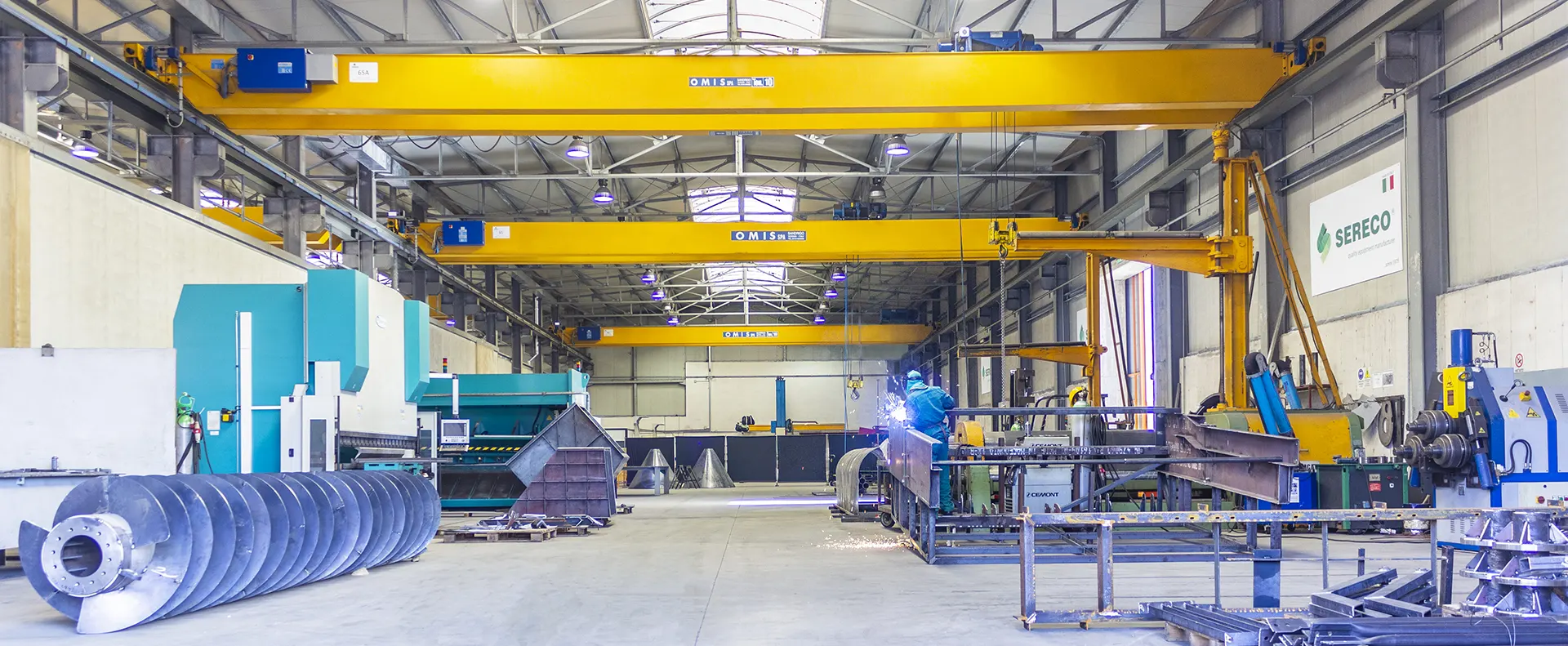 The company-owned factory opened in 2006. It is solely used for the manufacturing of SERECO water treatment products.
The production section is equipped with automatic machines dedicated for cutting, bending and welding MIG and TIG as well as, for some processes, of robotic automatic type.
Sereco welders are all qualified by important training institutions and International qualification and all staff is qualified and regularly attend refresher and safety courses.
Sandblasting is done in an air-conditioning environment, painting is done in a pressurized environment, pickling is done in a ventilated environment. All operations always take place in compliance with health and environmental regulations.
The warehouse of raw materials, semi-processed and finished is 2000 m2 organized according to modern and computerized principles and equipped with dedicated handling systems.
Inspection and testing section is equipped with measurement and verification equipment but also with a dedicated and equipped tank to carry out the verification, including sample, of aeration systems, mixing, level control, pumping and so on.
Loading areas are equipped with pallet trucks and container loading systems which offer all our customers the service of loading goods for transport.
indoor
12060 square meters
A section dedicated exclusively to the production in stainless steel and aluminium to avoid iron contamination
A section for the production in carbon steel
A section for mechanical manufacturing
A sandblasting cabin according to EU regulation
A painting cabin according to EU regulation
outdoor
8000 square meters
Inspections and tests
Temporary storage
Loading facilities
Roads and other services
Pickling and passivation area

Vertical integration
To maximise its quality standards has always been the main aim for SERECO. A goal that has been fully achieved thanks to a successful choice: directly manage every step of production process.
SERECO develops and controls within the company all actions that lead to final product: from design to engineering, to the finished product by availing for some goods and services of qualified suppliers. In this way SERECO is able to control at 100% quality and timing of production of all the solutions offered.
The care even in the smallest and simplest of the machines manufactured is very high because it will become part of a complex plant designed to obtain water, wastewater and sewage treatment to the best of the resources available.
Applications
The sectors of application of SERECO products are many and cover every process of sewage and water treatment and all stages of treatment. Designing our products, testing them, improving them and continuously updating them is the heart of the company's business, this is what the company dedicates its best energy and its strategic sense to.
Processes
SERECO products are designed and manufactured for application in many of the treatment processes. For water intakes for desalination, cooling and water treatment, we can supply stop logs, penstocks to intercept and regulate the water level, as well as screen and trash rake and filters for the mechanical removal of the solid part. For primary water treatments we can supply mixers for flash mixing, flocculation, mechanical and lamellar clarifiers for water treatment. All sewage treatment processes such as aerators for activated sludge, decanters for SBR, pretreatments specifically designed for MBR, pretreatments and secondary treatments with all the most advanced features to minimize electricity consumption, reduce the space used and eliminate the use of chemicals in addition to the simple and functional application of deodorization systems. For the treatment of sludge we can provide technologies and equipment for sludge thickening, both mechanical and solar dewatering, digestion with the production of methane gas and therefore electricity. For deodorization processes we supply biofilter and biotrickling systems, activated carbon and chemical scrubber.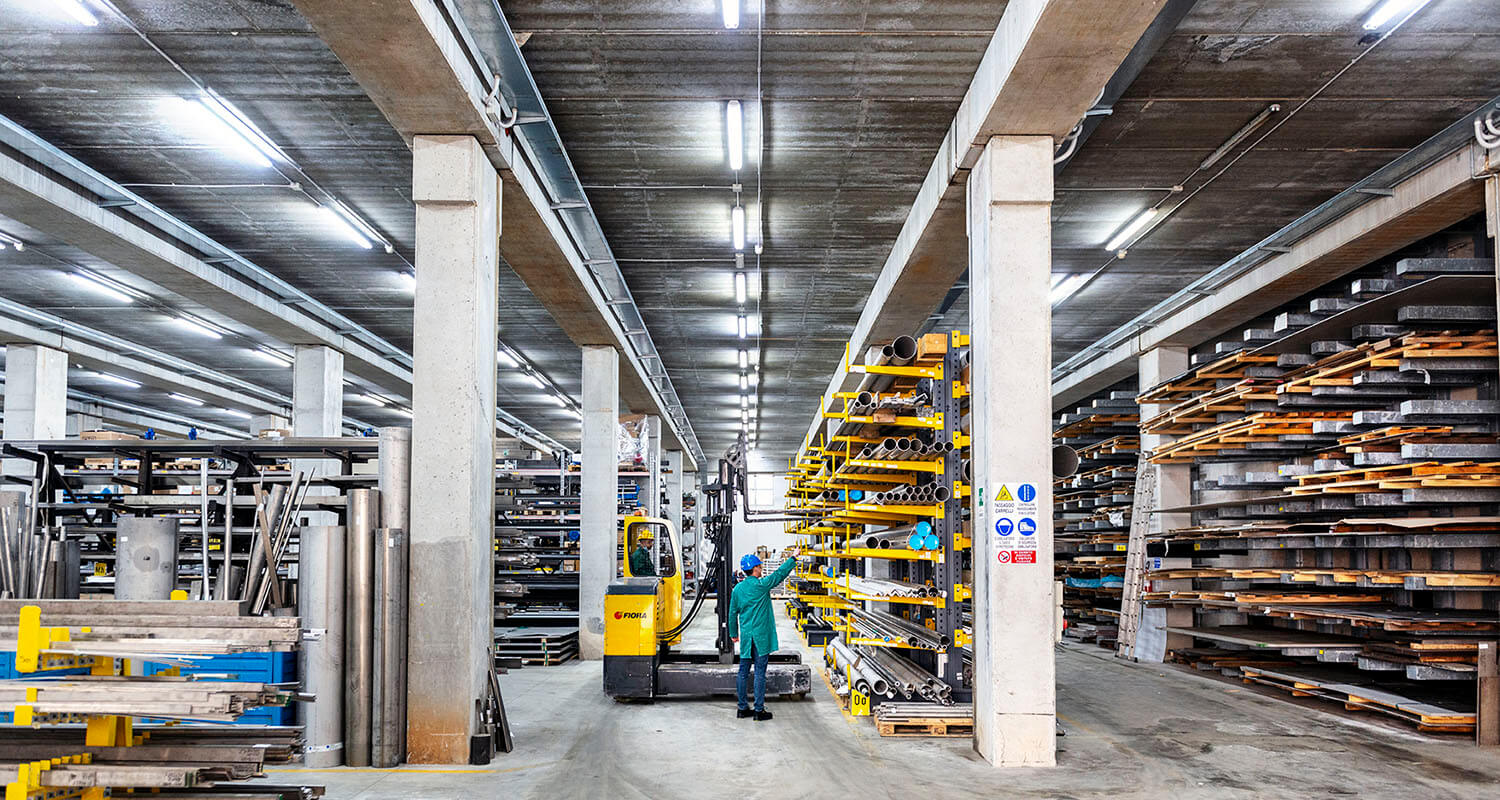 Quality
UNI EN ISO 9001:2015
SERECO considers Quality, certified since 1997, a central element of its strategy and promotes a commitment to Quality at all levels of the Organization; it focuses on the constant development of its product, through all phases of the business process aimed at the achievement of a secure business stability and full Customer satisfaction, both internal and external.
SERECO places both internal and external customers at the centre of its activities and the constant development of the logic of continuous improvement of its products and business processes. It therefore becomes important to know him in depth, providing products and services that meet his needs and obtaining his maximum and full satisfaction.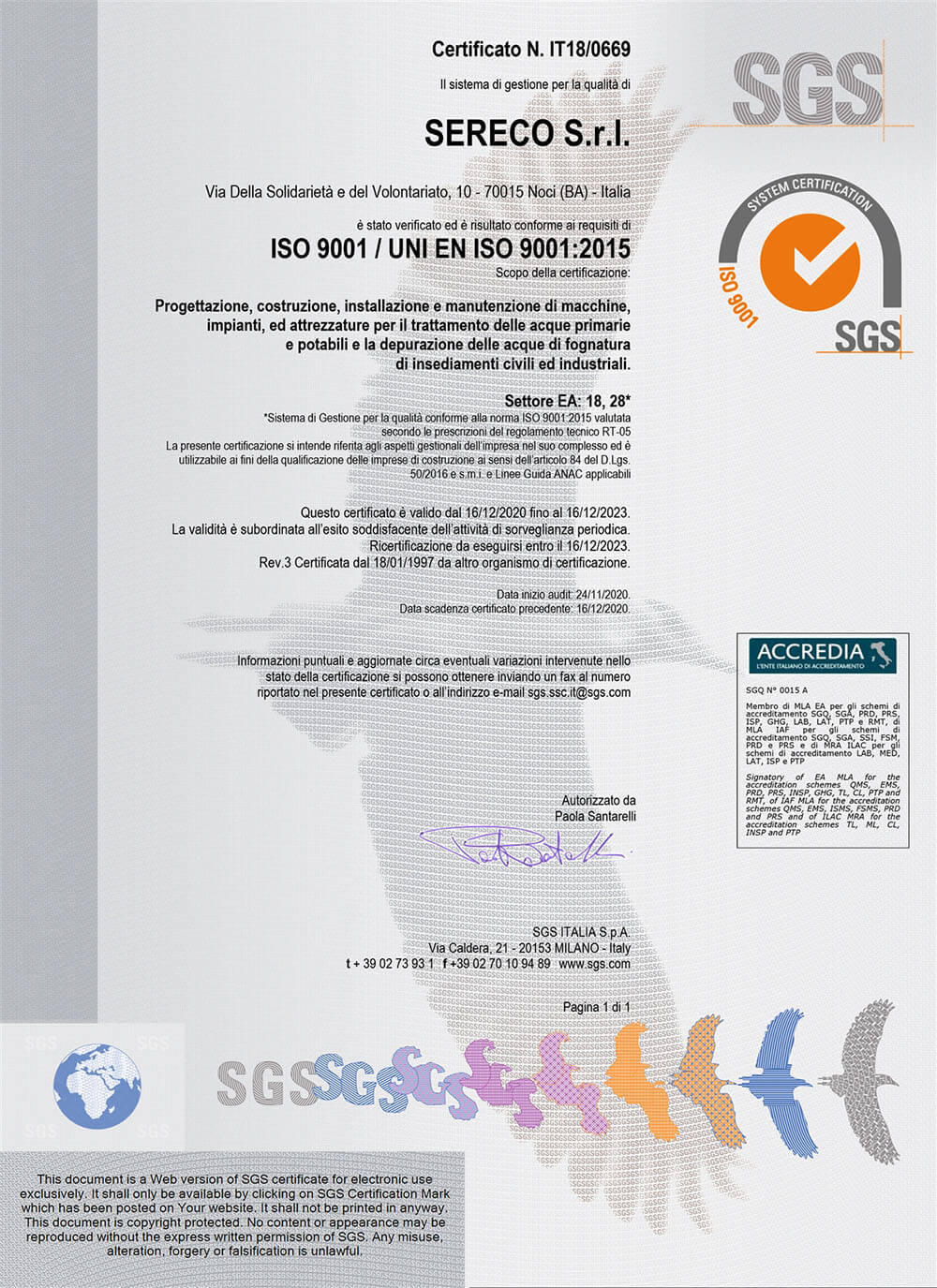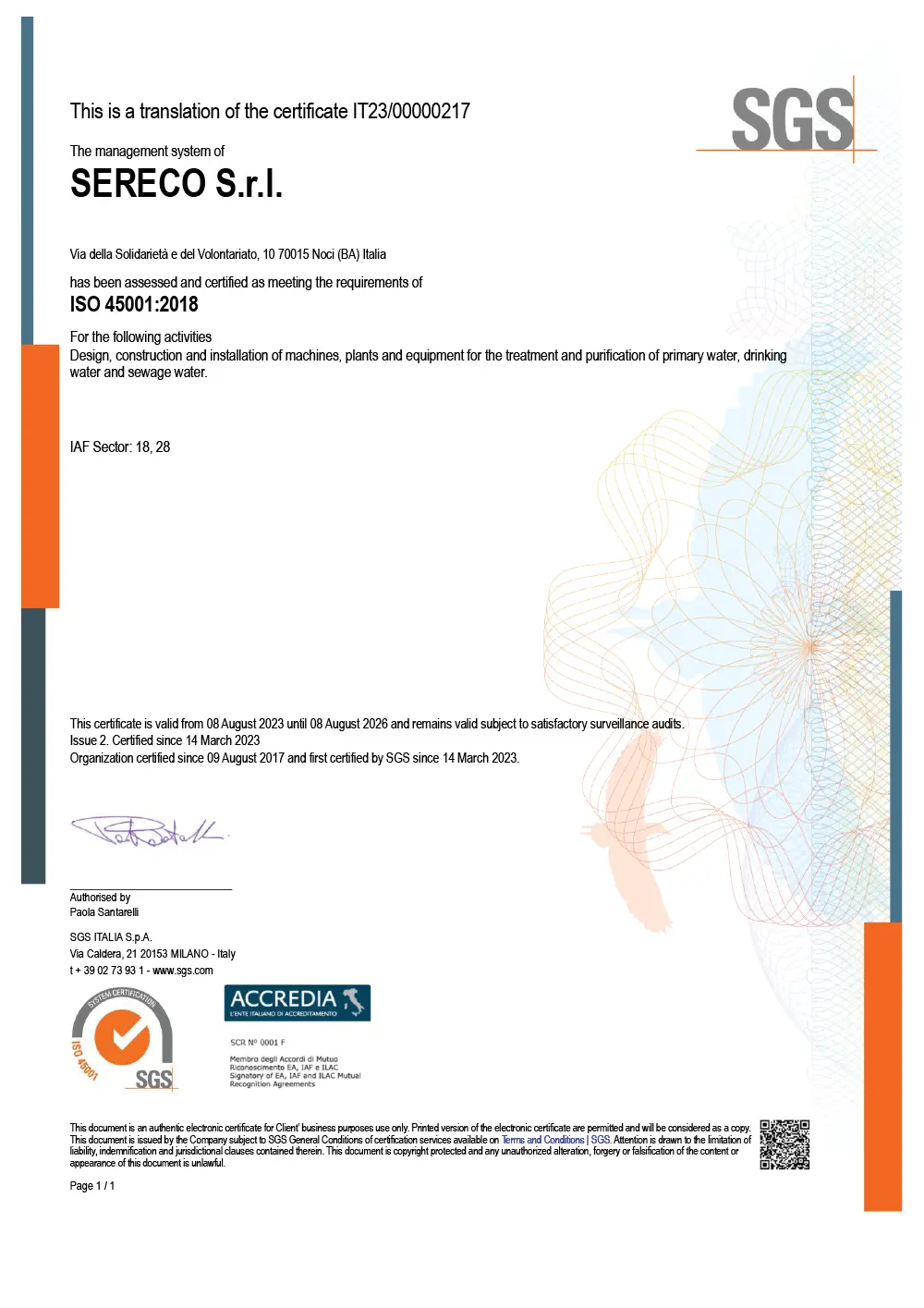 Occupational health and safety
ISO 45001:2018
SERECO is committed to pursue the best possible conditions of Occupational Health and Safety (OSH) with reference to the principles of prevention and continuous improvement and in an appropriate manner to the nature and entity of risks present.
The responsibility in OSH management concerns the whole organization, from employer to every employee; everyone is called to give its active contribution, according to their duties and expertise.
The company promotes any activity aimed at ensuring that its products and operations do not present significant risks for health and safety at work of human resources.
Environment
ISO 14001:2015
SERECO obtained the certification of its environmental management system according to ISO 14001:2015 standards. SERECO, in fact, recognizes in the environmental management one of the most important business priority and a key factor in improving the quality of life both within the company and the neighbouring communities. It strives as in its possibilities for achieving a better environmental performance in order to minimize the risks to environment. The Environmental Management officially becomes a central element for SERECO and very important for its industrial activity like productivity, efficiency, quality, health and safety and technological development. The Corporate Environmental Policy aims for continuous improvement of its environmental performances by identifying the aspects with direct and indirect impact and by ensuring compliance with environmental legislation. All events arising from the production cycle (environmental aspects) that can result in significant environmental impacts have been carefully considered and evaluated.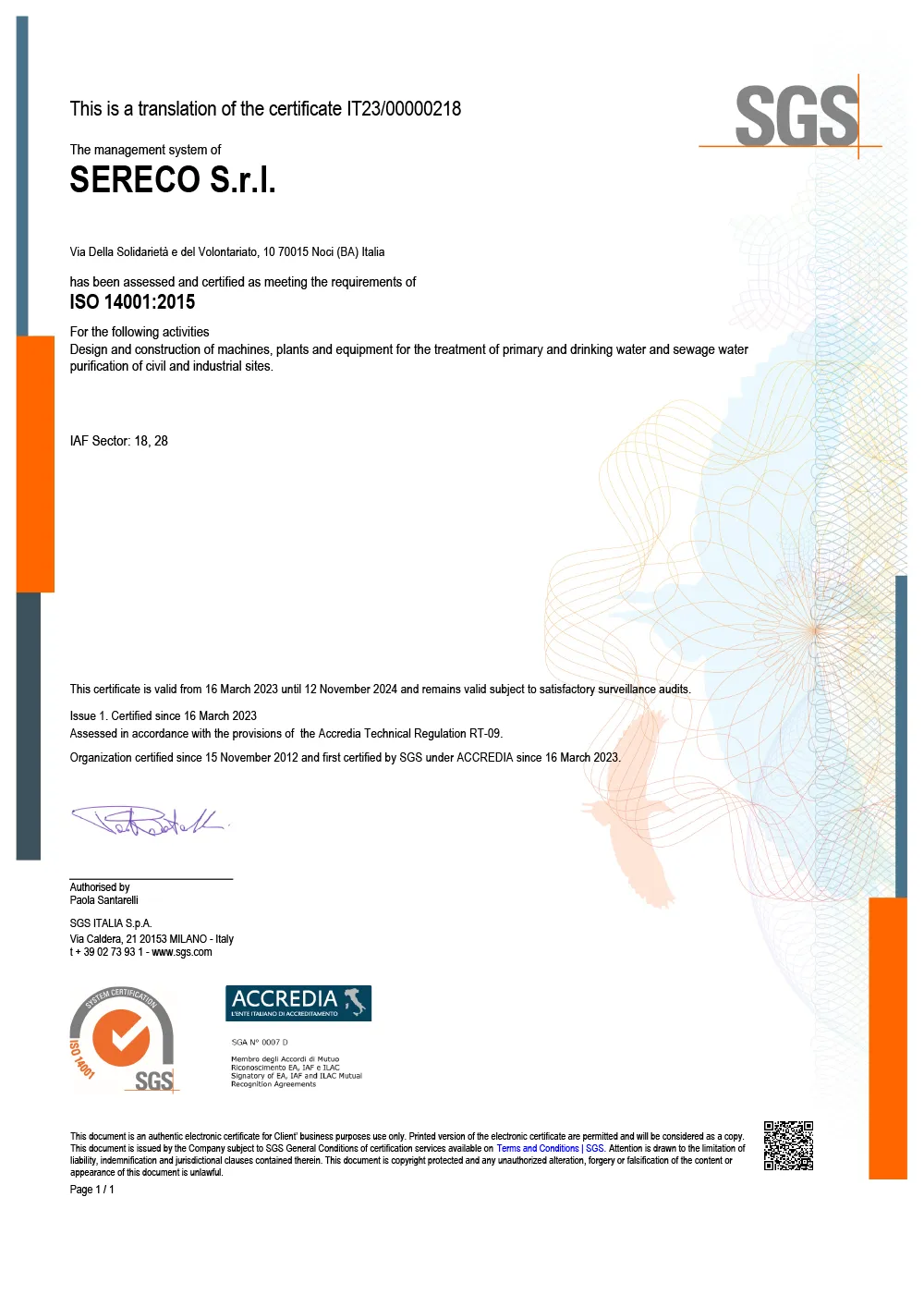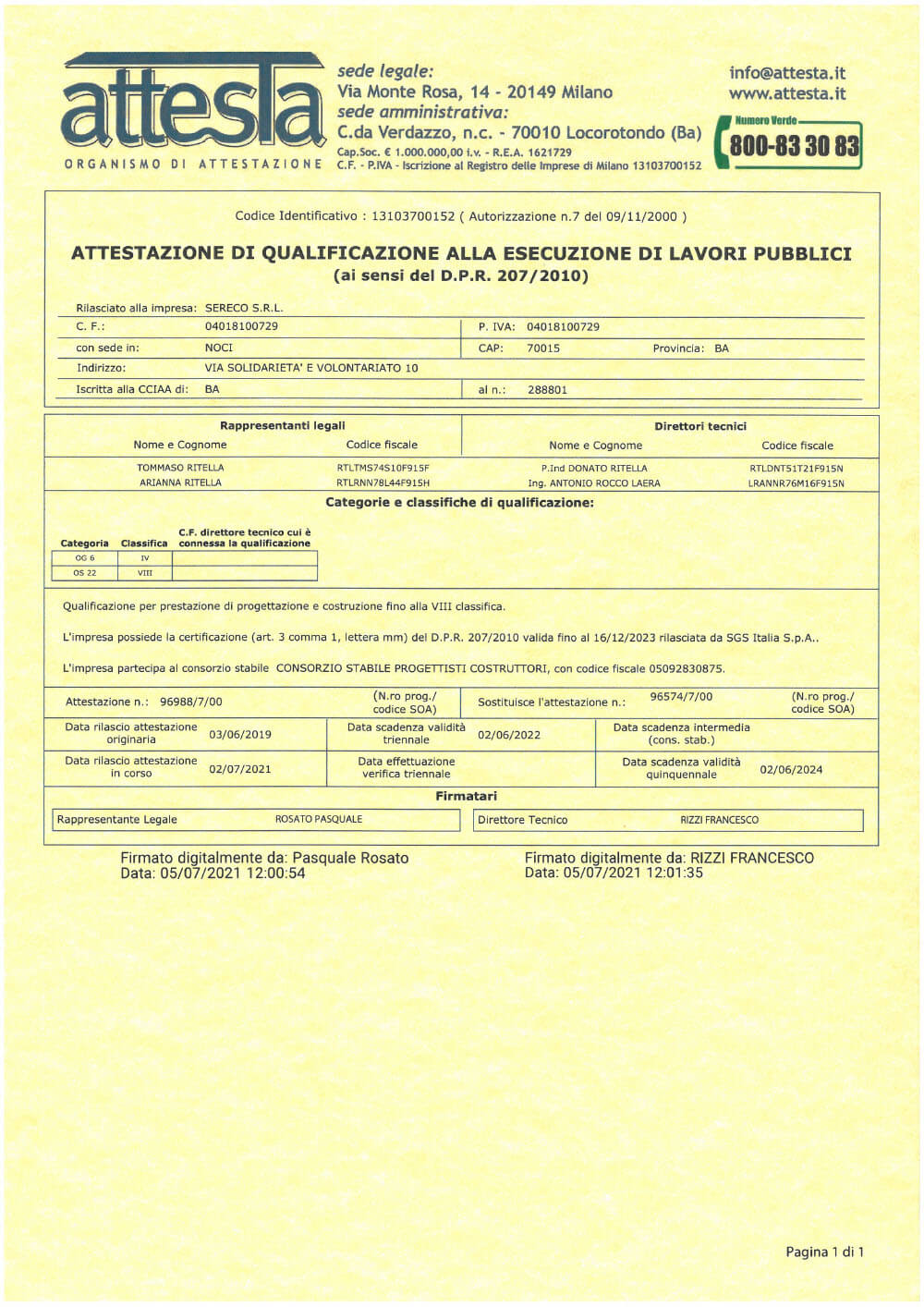 SOA certificate
SERECO is qualified for the execution of public works having SOA Certificate for designing and manufacturing of potable water and wastewater treatment plants and sewerage systems corresponding to the categories of enrolment OS22 rating VIII and OG6 rating IV.
Welding
EN ISO 3834-2
SERECO production plant was subjected to an accurate verification process by SGS Italia in March 2017 in order to demonstrate compliance with the standards and finally obtain the certification of EN ISO 3834-2, UNI EN 1090-1 certification which are integrated into the UNI EN ISO 9001 quality management system already implemented in the company for years.
For the EN ISO 3834-2 certification, part 2 is the most complex of the 3834 series and requires that the welding process be carried out in the production plant in accordance with quality standards that ensure the efficiency and cost effectiveness of the processes and procedures beyond that the safety of the highly qualified personnel involved and requires compliance with the qualified welding procedures (WPS) for assembled constructions made of steel, stainless steel and aluminium.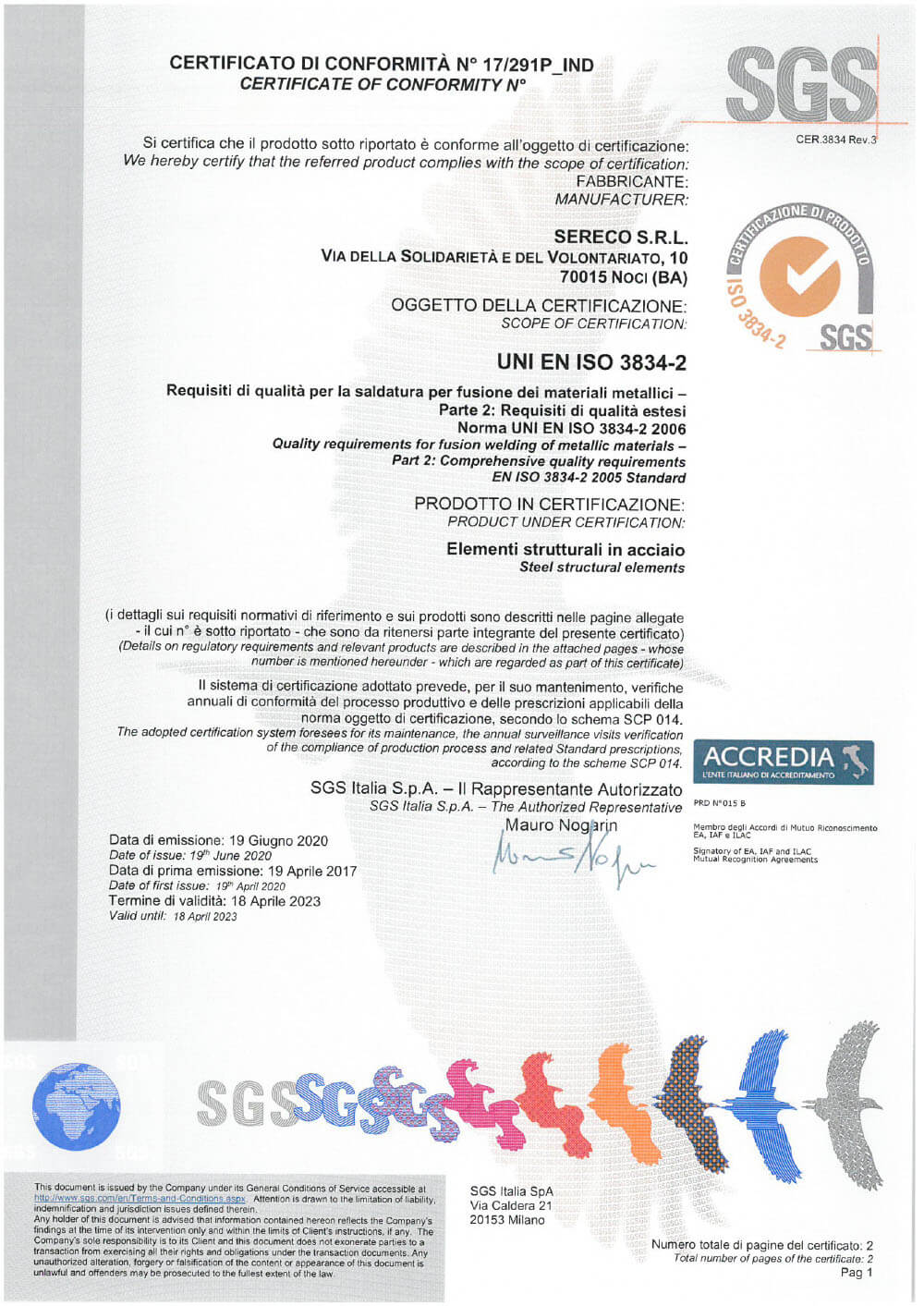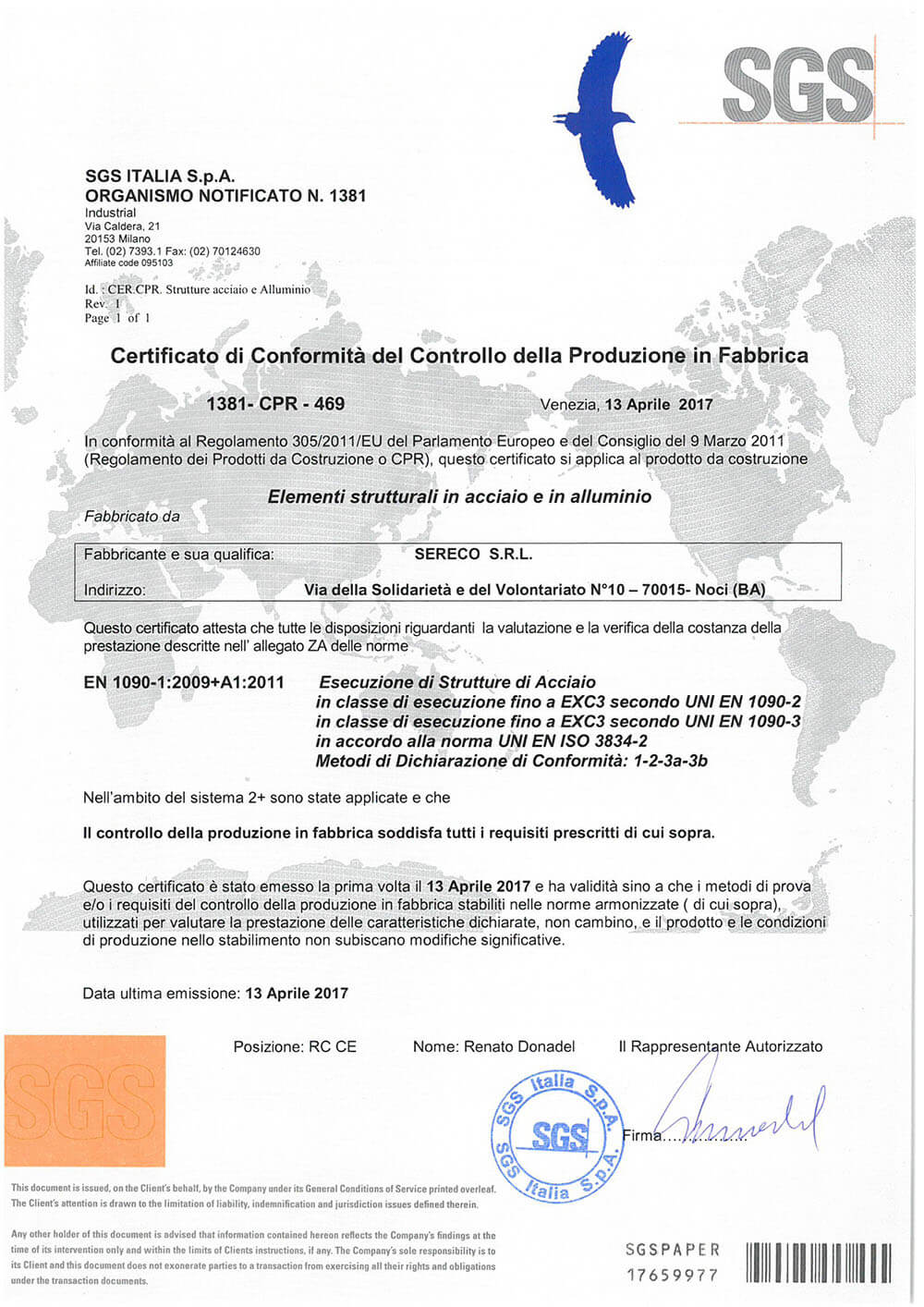 Carpentry
EN 1090-1:2009 + A1:2011
UNI EN 1090-1 certification is the harmonized standard that provides for the requirements for the CE marking, according to the European Regulation no. 305/2011 (CPR, Construction Products Regulation) of steel and aluminium structures, with particular attention to the documentation of qualification and actual traceability of the products, and the required acceptance tests.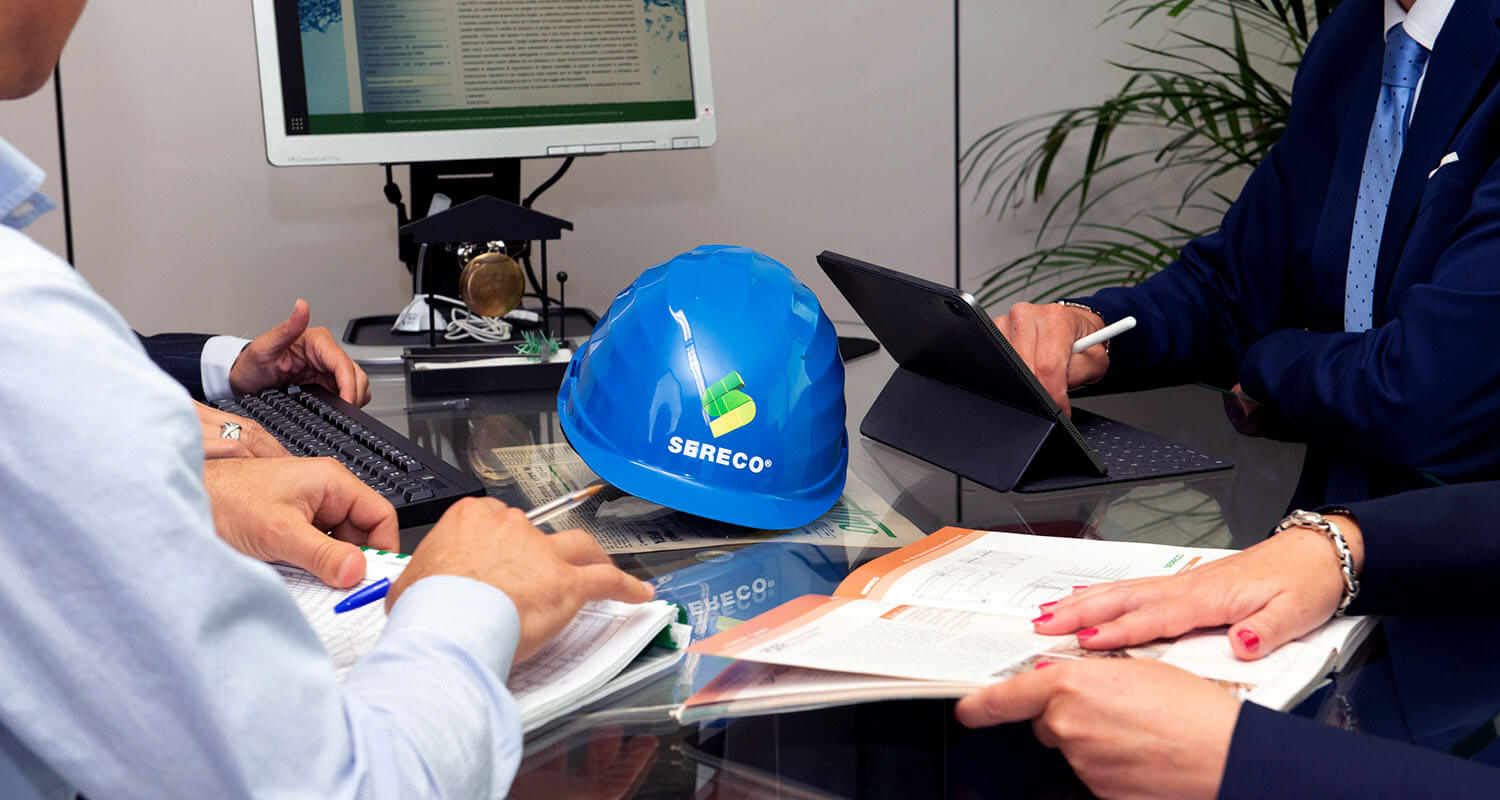 Reference supplier for the global water market
74
countries in the world to which we have already exported
+ 1920
plants where you can find SERECO machines
+ 200
different customizable solutions